FEET ON THE GROUND,
HEAD IN THE SKY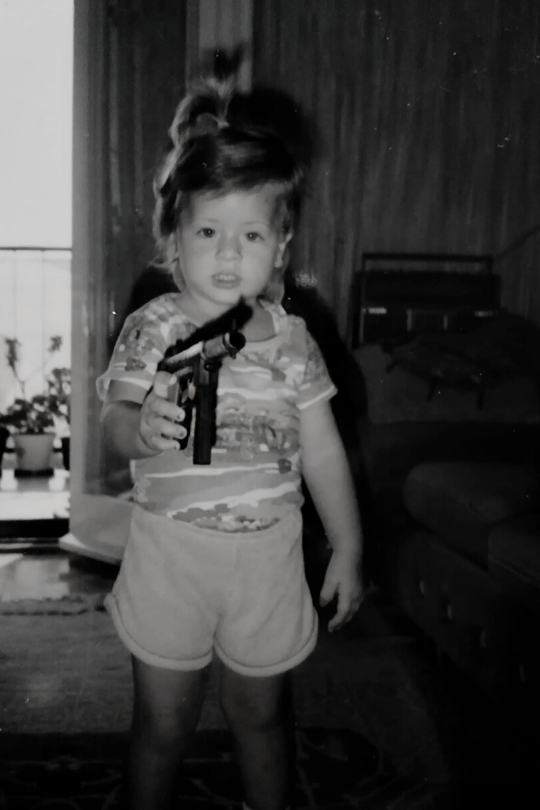 Yep, this was me once - a little gangsta kid. Nothing changed much, except now I don't carry around a plastic gun, and I became a self-taught marketing thug.
Before setting off on a self-employed path, I worked for several startups in Belgium where I learned to wear many hats as a marketer. In 2019, I became a freelancer with a knack for copywriting and, honestly, it hasn't been a single dull moment since then.
When it comes to choosing the next project, I go by the 'feeling'; you can call it intuition or a hunch. For me, working together means more than only an exchange of service/money - I'm more interested in long-lasting partnerships where we can learn together, as well as lean on one another!
I love animals (did I mention I have two cats?), beach life, vegan food, reading Murakami, and dancing to Talking heads - but you probably picked up that already.
Iva is an exceptional writer and communicator. She supported us with a new product launch at Barco and immediately connected with the team, contributed a fresh perspective and delivered engaging content to help us launch a new solution to a global market. I would recommend her skills to any organization needing to communicate a clear message to their customers.

Iva is a strategic digital marketer who knows how to do what so many marketers don't: implement the company team's strategic vision and guide marketing efforts accordingly! When writing for StoryChief, I always appreciate how she continually updates me on any pivots with a target audience or with the solution so that I can ensure that my content is making an impact. To top it all off, Iva has a great creative eye and is really enjoyable to work with!

"I've known Iva for a few years now. She is a real joy to work with, even if only because of her ever appearing smile and enthusiasm. Probably as important, she is a very professional marketer and a great copywriter. She recently helped us out with our new website, after we got stuck with another provider who let us down. Once Iva was on the case, things moved swiftly. With a great result! What I like a lot about Iva, is her focused business & marketing mindset. Always keeping in mind where you want to get to as a business."

"I worked with Iva on the full creation of our website, and in the meantime, we also worked on the brand guidelines with her. Iva is responsive and very creative, as well. The things she proposed matched a lot with what I wanted to show, in the way I wanted, even if it was not easy for me to explain what I wanted. She took the time to listen to me, my philosophy, our business, our clients, and from that we got something great. Iva is also very responsive in the after-sale service, and mainly because it's hard for me to understand all the specificities of any website. We also got a very detailed tutorial, which helps us every day, and even on top of that, she's always here to answer my questions! Thanks, Iva, for your great job!"

"As Digital Marketing Manager at Make Life Skate Life, Iva proves to be a devoted, creative, and proactive professional, accomplishing her role to our utmost satisfaction. Iva makes use of her broad set of skills and indispensable knowledge to advance the cause of our organization. Between every project member, Iva is highly valued because of her friendliness, her capacity for teamwork, her reliability, and her expertise."

"I started my production house MOVEDBYMATTER and I needed someone who would make a website. A friend recommended Iva and it was a good decision because it's indeed great to work with her! It was interesting to see how she found inspiration to build the logo and the website."

"Iva showed great freshness, creativity and professionalism turning our vision in a very user-friendly, modern, hip but nevertheless classy looking webpage. I would definitely recommend working with her, she is the bright and bold strike your (visual) identity needs."